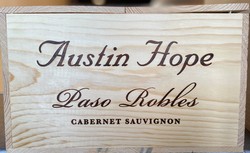 Austin Hope Reserve Cabernet Sauvignon 2019 wood box set
Vineyard Notes:
The 2019 growing season was a bit challenging: Above average rainfall persisted throughout the spring with the last rainfall occurring unusually late on May 31st. These conditions kept the spring free of frost threats but relatively cool, leading to slow and steady vine growth. The summer months were somewhat erratic with short heat waves followed by cooler periods. Ultimately, the cooler weather persisted with only a few autumn heat spikes, creating gradual berry maturities, plenty of "hang time "and a laterthan-normal harvest. Mid-late October brought overnight freezes which required some harvest mitigation, but by early November harvest was complete.
Winemaking Notes:
The making of Austin Hope Reserve Cabernet begins with small lot fermentations separated by individual vineyard blocks which receive daily pump-overs for maximum extraction. These lots are constantly supervised, tasted & analyzed for tannin and anthocyanins in order to determine optimal length of extended maceration after fermentation. Once drained and pressed, the young wines are barreled down into a combination of once used and neutral French Oak. In fall of 2020, the lots were blended together and continued barrel aging in 75% new French Oak. Just before bottling the 2019 Austin Hope Cabernet, the winemaking team tasted and selected individual barrels that displayed exceptional quality and character. These barrels were combined together to form the AHCS Reserve. After an additional 6 months of ageing in 100% new French Oak, the wine was then bottled in late spring of 2021.