"Quest is not bound by history, tradition or norms of winemaking"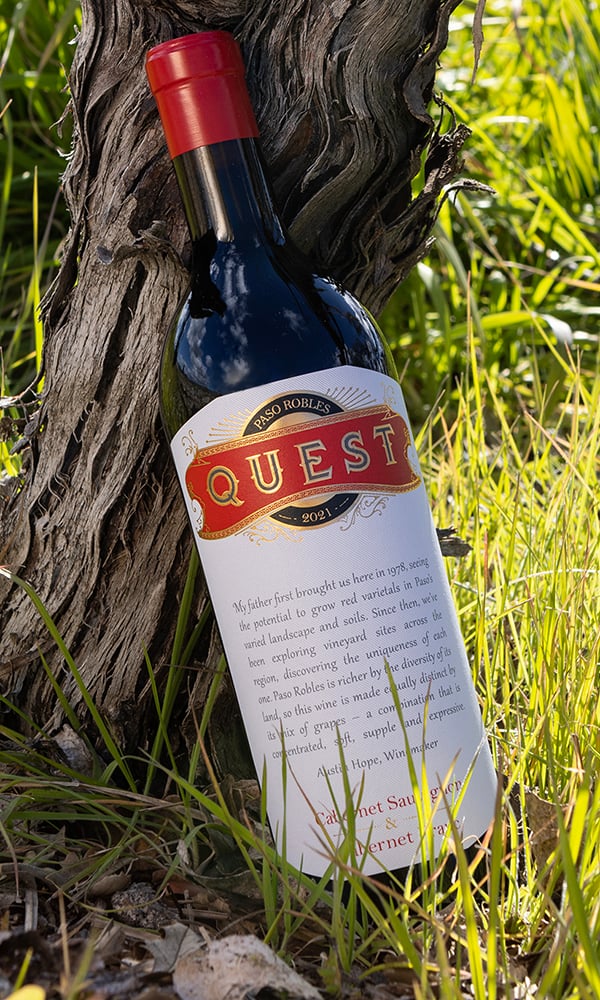 Quest aims to express the potential and excitement of Paso Robles
As makers and dreamers, our minds are never at rest. We are constantly in pursuit of the possibilities we have yet to create. Quest was born in this spirit and out of a love for American oak and Cabernet Franc. Cabernet Franc is one of the noble grapes of the world-famous Bordeaux region and yet was not widely planted in California, let alone Paso Robles. The fact is, Cabernet Franc is very particular when it comes to soil and temperature.
Lucky for us, after years of trial and error, we discovered the perfect terroir and microclimate in the Paso Robles AVA for the persnickety Cabernet Franc. Once our vines were established, we worked with our coopers to create the standard for luxury American oak barrels that would complement our vision for a world-class Cabernet Franc blend. We believe that creating an exceptional Cabernet Franc is much like creating an exquisite Pinot Noir; both varieties are soil, site, and temperature driven. The Cabernet Franc in this blend thrives in a distinct soil and requires a slightly cooler climate than Cabernet Sauvignon and the other grapes that dominate our local AVA. The journey from vision to bottle has been one of discovering the perfect elements to achieve our dream.
Sub AVAs

Paso Robles (El Pomar, Creston, Geneseo, Estrella, Paso Robles Highlands, San Juan Creek)

Varietals

Cabernet Sauvignon and Cabernet Franc

Vineyard Notes
The vineyards we source for Quest truly are a quest for us. We are constantly in search of the best sites for each varietal. Soils drive the hunt for vineyards that will drive the varietal characteristics we're looking for and we found them in some known and unknown areas of the Paso Robles region.
Visiting these vineyards is a journey for sure. All are located 20-50 miles from one another, so you need to pack a lunch, plenty of water and beef up your playlist for the day's expedition. Backroads and dirt roads are the only way to these vineyards. Crossing over cattle guards and through locked gates are the norm. It's worth it, though.
Knowing you have found the right grapes in the best vineyards is satisfying.  Knowing your vintage is off to a great start in the vineyards is even more satisfying!
June 4, 2019

Great wine, delicious food and luxury digs come with small-town charm on California's Central Coast.

Read More

March 12, 2020

Paso Robles is California's biggest, most diverse AVA. If you haven't been, or sampled widely from its manifold fermented grape offerings, now's the time.

Read More