In the words of Austin Hope, "Experimentation is how we chase perfection"—a mantra that is embodied by our Cellar Select wines.
These ultra-limited releases are born of the Hope Family's longtime relationships with top local growers, providing us with access to the finest blocks at preferred vineyards across Paso Robles and the Central Coast. Many of these wines originate from small experimental batches that yield some of our most creative, compelling and luxurious offerings, all collected under the banner of Austin Hope Cellar Select
Austin Hope Graciano
We call it the happy accident: due to a nursery error, several Paso Robles plantings of "Mourvèdre" were later identified and re-classified as Graciano—a classic Spanish grape rooted in Rioja. It's how we gained access to a rare New World selection of Graciano fruit, ultimately creating an Austin Hope cult favorite. With its savory aromatics, racy textures and vibrant wildberry flavors, this is a wine for true connoisseurs.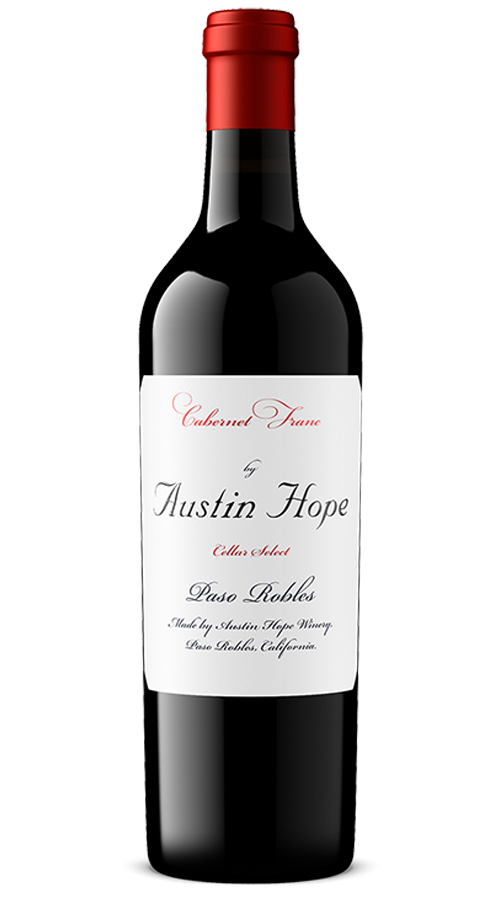 Austin Hope Cabernet Franc
This wine shows why Austin has become a champion of Cabernet Franc from select areas of Paso Robles, where it displays immense potential. Deep, layered and elegantly structured, this is an age-worthy Cabernet Franc that captivates the senses and stirs the imagination. A passion project from Austin Hope—and masterful rendition of a relatively unsung Bordeaux variety.
Austin Hope Sauvignon Blanc
An exemplary Paso Robles Sauvignon Blanc that stands in proud contrast to the light, breezier styles of the varietal. This wine is reflective of our region's warmer conditions, which draw out riper expressions in the Sauvignon Blanc grape, including tropical pineapple and citrus. We complement this native character with partial barrel aging, which rounds out the texture while imparting subtle impressions of French oak. The result is a uniquely complex Sauvignon Blanc.
Austin Hope Chardonnay
Austin Hope Chardonnay is a wine of pedigree, striking a perfect balance between classic California richness and fresh varietal expression. To create this wine, we draw fruit from Monterey and Santa Barbara, two nearby coastal regions renowned for producing world-class Chardonnay. Luscious yet focused, with expansive flavors of pear, golden apple and tropical fruit—a rarefied Chardonnay for those who want it all.
Austin Hope Petite Sirah & Lagrein
Petite Sirah is a Paso Robles heritage grape, while Lagrein is an Italian grape that remains a rarity in California. When Austin Hope discovered the unlikely synergy between these two varieties, he never looked back. The meaty, saturated character of the Petite Sirah blends seamlessly with the lift and freshness of the Lagrein, culminating with exotic wildberry flavors that dazzle the senses.
Austin Hope Petit Verdot
Petite Verdot is most known as a blending variety for Bordeaux-style cuvées, but we set out to prove that it can stand tall on its own. Austin Hope Petit Verdot is sourced from some of the best vineyards in Paso Robles, where this late-ripening variety reaches its full potential. The result is a wine of engulfing elegance, with floral violet aromas, a concentrated fruit profile and ultra-sleek textures.
Austin Hope Malbec
Austin Hope Malbec hails from the Highlands District in the southeast interior of Paso Robles, where high altitudes, warm days and crisp nights create ideal conditions for drawing out the best in this classic Bordeaux variety. This limited-edition wine displays an inky violet color that foreshadows concentrated wildberry flavors with abundant freshness and complexity. A stunning stand-alone showcase for Paso Robles Malbec.


Austin Hope Chenin Blanc
Chenin Blanc is a noble grape from the Loire Valley with a storied history in California. And while its popularity may have waned over the years, its greatness has not—as evidenced in this small-batch bottling. Crafted from old vines planted in 1972, Austin Hope Chenin Blanc displays the classic signatures of rich viscosity, nimble acidity and enveloping fruit flavors. Rediscover the heritage and potential of Chenin Blanc from Paso Robles.


Austin Hope Rosé
Austin Hope Rosé is a dry European-style rosé made with Paso Robles flair. Grown on the Hope family estate in the Templeton Gap District, this wine is composed of Grenache and Mourvèdre cultivated exclusively for rosè production. The emphasis here is on elegance and minerality, with luscious flavors of strawberry and citrus. Crisp, refreshing and delicate—but not to be taken lightly.